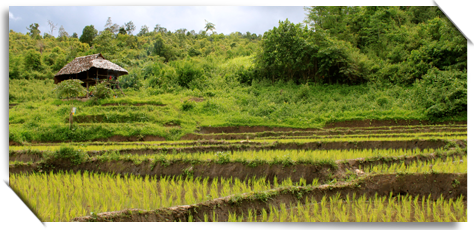 Rice bran oil
The most balanced and versatile oil on the market today. Very balanced and stable thanks to its richness in antioxidants. Rice bran oil is superior for salads, deep-frying, stir-frying and regular cooking. The high smoking point makes the oil more stable at higher temperatures. The light stickiness of the oil makes it so that not much of the oil is absorbed in the ingredients, which caused less calories to be absorbed. Rice bran oil is fit for a cholesterol lowering diet, has many nutrients and contains many natural antioxidants.
Olive oil
Olive oil has a high amount of monounsaturated fats that lower your cholesterol. However, olive oil has a low amount of polyunsaturated fats. These contain the essential fatty acids, the fatty acids that are required for the functioning on the human body. The human body can't create these on its own. Olive oil also has a low smoking point, this makes it less suitable for stir-frying and deep-frying. Traditionally olive oil is used in salads. Extra virgin olive oil is very expensive and loses a lot of its flavour at high temperatures.
Peanut oil
This oil has a very well balanced fatty acid profile. It also has cholesterol lowering characteristics and its high smoking point makes it suitable for deep-frying. However, the oil has an earthy and nutty flavour, people with a nut allergy can't use peanut oil. Peanut oil also has less antioxidants than rice bran oil.
Soy oil
This oil has a high concentration of polyunsaturated fats. More than 80% of the total oil consumption in the United States of America is soy oil. There are many genetically muted crops of this produced.
Rapeseed oil
Rapeseed oil is suitable as a deep-frying oil and can also be used in salads. This oil has cholesterol lowering characteristics, because of the amount of unsaturated fats, but has many polyunsaturated fats. In some countries this oil is genetically manipulated.
In comparison to other rice bran oils
Alesie rice bran oil is the rice bran oil with the highest amount of gammy oryzanol, 10.000ppm. Oryzanol is a natural antioxidant that you can only find in rice. Oryzanol is an important component that reduces that bad cholesterol and improves the good cholesterol. Rice bran oil that is produced by other companies also contains oryzanol, but in a much lower extent. This makes Alesie rice bran oil superior.